MichaelYon-Online.com
:
Visit his website to read the whole story. The truth needs to be known.
Someday this war is going to end.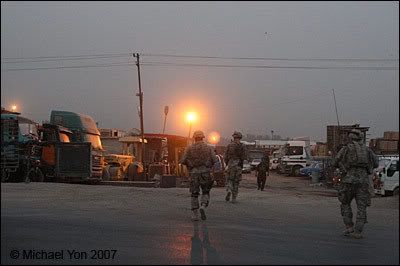 And so we started with 16 trucks, but before it was all over, they had sent 94 trucks of food to Baqubah. There was enough food, according to our Army, to feed 200,000 people for 30 days.
I recalled one of the bureaucrat's comments, upon hearing that al Qaeda had scattered like rabbits out of Baqubah. He seemed at first not to believe that news, but once he got confirmation, he made a point to tell us what that news actually meant: if al Qaeda was done in Baqubah, al Qaeda was done in Iraq...
MichaelTotten.com
:
Visit his website to read the whole interview. Very heartwrenching.
An Iraqi Interpreter's Story...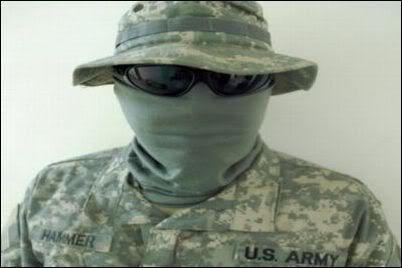 "Please, sir, can you help me? I must work with Americans, because my psychology is demolished by Saddam Hussein. Not just me. All Iraqis. Psychological demolition." – Iraqi woman to New Yorker reporter George Packer.
He [the Interpreter's son] wants to be an American soldier. He has his chair in his room with an American flag on it. Has a toy M-4. He has a little uniform that I got at the P/X. When he sees Saddam he curses Saddam. I never told him to do that. He does this himself. When he holds his toy gun he says he will kill the insurgents. He wants to go to Disneyland. His hero is Arnold Schwartznegger – not the Terminator, but Arnold Schwartznegger. He has all his movies.
Bill Gates is my hero.
Because of the few bad Iraqis who work as interpreters for the U.S., no one trusts us. But if you give me a gun I will fight harder than the Americans. You can go home. I can't. I have to live in this country. If the Americans don't give a Green Card to me and my family, I have to stay in this prison. At Camp Taji the First Cavalry Division thinks interpreters are the enemy. They decided that interpreters who aren't American citizens have to
take the American flag off their uniforms
before they are allowed to enter the dining facility.
I cried that day.
I wasn't supposed to, but I complained. I said It's okay for me to die outside wearing the American flag, but I can't eat wearing the American flag with Americans? That was the worst day of my life with the American Army. I'll tell you what I tell my family.
If I die here, wrap me in the American flag when you bury me. I don't want to be wrapped in the flag of Iraq.