I know I've already blogged about
Tom Ford's lippies
, but I'll just focus on my two favorite shades this time-
True Coral
and
Smoke Red
. These two colors are so bold, only a real woman would wear them!
True Coral
is bright, edgy, and just
screaming
for attention, while
Smoke Red
is dark, warm and smoldering. Despite being on the opposite ends of the color spectrum, both lipsticks are eye-catching and unapologetic. Definitely not for chicks with massive insecurities.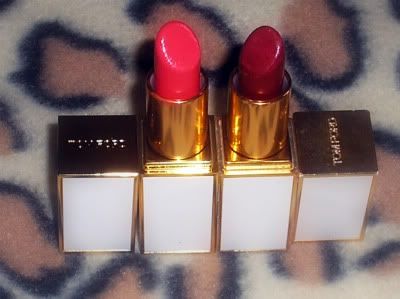 I also love how both colors can reflect the kind of mood I'm in. True Coral, for example, is something I'd wear when I feel like unleashing my inner Kesha to an unsuspecting world. It's my "going crazy" lipstick- it's bright, loud, and rebellious! I'd totally rock out to 80's bitchpop wearing this thing. Smoke Red, on the other hand, is for when I feel like giving my man the whole world. The color is warm, rich, and inviting. In fact, the only time girls should wear this is when they've got nothing else on!
Like all Tom Ford lippies, True Coral and Smoke Red are rich in texture. I don't feel like my lips dry out even when I over-swipe 'em. They also take time to fade, which is a good thing because I hate constant touch-ups. You can eat three Big Macs in a row and I swear to God, your lipstick will remain intact. The packaging is pure luxury but over time the gold edges fade a bit. Still, a total ten-out-of-ten lipstick! (more pictures after the jump!)
True Coral
True Coral and Smoke Red
Smoke Red