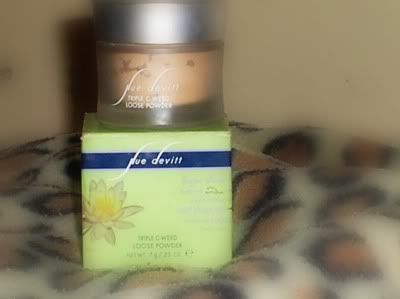 I haven't really tried any of
Sue Devitt's
products, but I've been looking for a good, light powder foundation and saw this one on sale. It was 25% off so I figured I'd give it a try. I have oily skin but a lot of the mattifying powders I've tried tend to look dull and cakey. Thankfully, this has a natural finish. As for the color range (I think there are only three shades), I tried the lighter ones but settled on
Tanami
, which isn't as dark as it appears from inside the jar. It disappears into my skin and gives good coverage. I don't really put this all over my face, just in some areas that need it, like my T-zone. The staying power is fine; Five hours into an action-packed day at the mall and it still gives me that natural glow, though I've had to pat a bit of powder on my nose and cheeks every now and then. I don't take this against the brand because I seriously doubt you can completely keep the oil at bay- a little bit of that shine is bound to peek through. What's important is I don't need to constantly keep using this powder to feel and look a bit matte.
A lot of people with dry skin recommend this powder, but it works well for me too. Another positive thing about this product is it contains vitamin C and green tea. The powder is finely milled and silky. Too bad it comes in such a tiny jar- though it looks elegant, I have a hard time getting some powder on my brush. The tiny powder puff that comes with it is okay, but I wish the jar had a bigger opening.
I'll probably repurchase this again, even at its original price, if I can't find anything better.
P.S.
I finally got some time off and saw Transformers 3. I LOVED IT. I don't really get the plot, but I don't care about it either! Hell, I
loved
Transformers
2
!