Remember the heavy Shiite-on-Shiite battle in Basra? Well it seems that al-Sadr, leader of the Mahdi Army, has surrendered for amnesty. I don't believe anyone should believe this fool, but I guess we'll just see what goes on from here.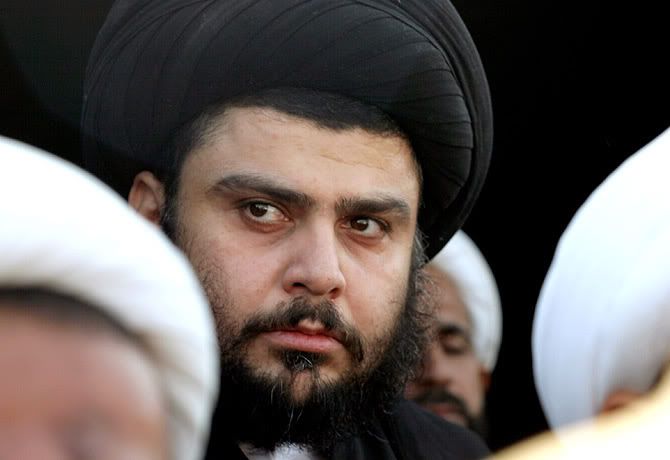 From PatDollard.Com: Al-Sadr offers surrender for amnesty, disavows fighters
BAGHDAD - Shiite cleric Muqtada al-Sadr is offering to pull his fighters off the streets of Basra and other cities if the government halts raids against his followers and releases prisoners held without charge.
The offer is contained in a nine-point statement issued by his headquarters in Najaf.
Al-Sadr is demanding that the government issue a general amnesty and release all detainees. The statement said he also "disavows" anyone who carries weapons and targets government institutions, charities and political party offices.
Update:
Government spokesman Ali al-Dabbagh told Iraqi state TV in an interview that the decision is "positive and responsive."
(AP)
Reuters Update:
BAGHDAD, Iraq — Shiite cleric Muqtada al-Sadr has ordered those loyal to him and his Mahdi Army end all presence on the streets in Basra and cities across Iraq, saying that whoever carries arms against Iraqi forces is not one of his followers. The Iraqi government lauded al-Sadr's orders, saying "This is a positive statement," according to Reuters.
Just In From Agencie Frog Presse:
Iraq's radical Shiite cleric Moqtada al-Sadr on Sunday ordered his fighters off the streets, paving the way for an end to clashes with security forces that have killed hundreds of people.
"We want the Iraqi people to stop this bloodshed and maintain Iraq's independence and stability," Sadr said in a statement with his seal released by his headquarters in the holy city of Najaf.
"For that we have decided to withdraw from the streets of Basra and all other provinces."
Sadr's latest call came after six days of fighting between Shiite fighters and Iraqi forces in the southern port city of Basra, Baghdad and several other Shiite regions that have killed at least 270 people.
He said he took the decision as it was his "legitimate responsibility to stop the bleeding of Iraqis, to maintain the reputation of Iraqi people, the unity of land and people, to prepare for its independence and liberation from the dark forces and to quell the fire of division by the occupier and its followers."
The clashes erupted on Tuesday when Prime Minister Nuri al-Maliki launched an assault on Shiite militiamen in neighbourhoods of Basra controlled by the Mahdi Army, the most powerful Shiite militia in the violence-ravaged country.
Sadr's call came after negotiations in Najaf that began on Saturday between representatives of his movement and the Iraqi authorities.
The Iraqi capital and Basra both remained under curfew on Sunday although there was a lull in the fighting, according to residents of affected neighbourhoods.
Maliki had given a 72-hour deadline to Shiite fighters in Basra to disarm after launching an offensive against them last Tuesday but the call was ignored by the militia.
"Sadr has told us not to surrender our arms except to a state that can throw out the (US) occupation," Haider al-Jabari of the Sadr movement's political bureau told AFP on Saturday.
The same day, Maliki vowed to press on with his assault in Basra, saying the militiamen were "worse than Al-Qaeda."
"Unfortunately we were talking about Al-Qaeda but there are some among us who are worse than Al-Qaeda. Al-Qaeda is killing innocents, Al-Qaeda is destroying establishments and they (Shiite gunmen) also," he said.
Basra, Iraq's crucial oil hub, is the focus of a turf war between the Mahdi Army and two rival Shiite factions — the powerful Supreme Iraqi Islamic Council (SIIC) of Abdel Aziz al-Hakim and the smaller Fadhila party.
The stand-off there has spread to other Shiite areas of Iraq, including the sprawling Shiite neighbourhood of Baghdad's Sadr City, the bastion of Sadr loyalists.
Pedestrians and vehicles stayed off the streets of the Iraqi capital for a third straight day of curfew, while Basra was relatively calm, residents said.
They however added that two neighbourhoods of Basra had been bombed during night by US or British jets. The two militaries did not immediately confirm the assaults.
US warplanes had carried out air strikes in the city on Friday and Saturday in which several people were killed, Iraqi and US officials said.
On Sunday, the US military acknowledged that its ground troops had started participating in the Basra assault.
A team of American special forces joined the battle in Basra, combining with Iraqi troops in an operation that killed 22 militants on Saturday, the military said.
The joint operation was in a known "criminal stronghold" in western Basra, a US military statement said.
US and British forces have said they have been giving air support to operations since Tuesday.
British troops have deployed outside their base on the edge of Basra in support of the Iraqi operations, British military spokesman Major Tom Holloway said on Sunday.
"There are no plans for our troops to enter the city. We are providing other forms of support," he told AFP.
This includes air support and surveillance as well as logistical back-up including refuelling helicopters and supplying ammunition and medical supplies.
Other news:
From PatDollard.Com: Islam Has Overtaken Roman Catholicism
VATICAN CITY (Reuters) - Islam has overtaken Roman Catholicism as the biggest single religious denomination in the world, the Vatican said on Sunday.
Monsignor Vittorio Formenti, who compiled the Vatican's newly-released 2008 yearbook of statistics, said Muslims made up 19.2 percent of the world's population and Catholics 17.4 percent.
"For the first time in history we are no longer at the top: the Muslims have overtaken us," Formenti told Vatican newspaper L'Osservatore Romano in an interview, saying the data referred to 2006.
He said that if all Christian groups were considered, including Orthodox churches, Anglicans and Protestants, then Christians made up 33 percent of the world's population — or about 2 billion people.
The Vatican recently put the number of Catholics in the world at 1.13 billion people. It did not provide a figure for Muslims, generally estimated at around 1.3 billion.
Formenti said that while the number of Catholics as a proportion of the world's population was fairly stable, the percentage of Muslims was growing because of higher birth rates.
He said the data on Muslim populations had been compiled by individual countries and then released by the United Nations, adding the Vatican could only vouch for its own statistics...