PatDollard.Com: Washington Tells EU Firms: Quit Iran Now
GWB and Cheney do all the tough tasks Democrats won't do. N.Korea is disabling its nuclear program, Iraq is seeing progress, and now Iran is quivering in its faux-Parada boots. Loves it.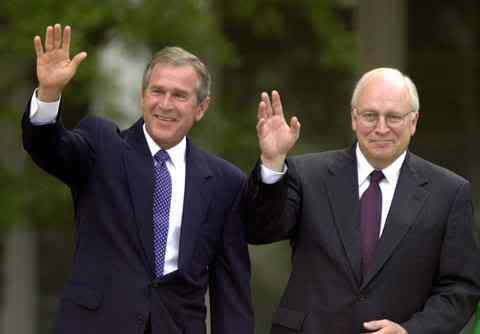 Multinational companies are coming under increasing pressure from the US to stop doing business with Iran because of its nuclear programme. European operators are facing threats from Washington that they could jeopardise their US interests by continuing to deal with Tehran, with increasing evidence that European governments, mainly France, Germany and Britain, are supporting the US campaign.
It emerged last night that Siemens, one of the world's largest engineering groups and based in Germany, has pulled out of all new business dealings with Iran after pressure from the US and German governments. This follows the decision by Germany's three biggest banks, Deutsche, Commerzbank, and Dresdner, to quit Iran after a warning from US vice-president Dick Cheney that if firms remain in Tehran, they are going to have problems doing business in the US.
The Foreign Office, while sympathising with City firms, has privately backed the US warnings in recent weeks, telling companies such as Shell and BP of the risks of continuing business with Iran. The French president, Nicolas Sarkozy, has urged French energy firms Total and GDF not to pursue new business in Iran. Angela Merkel, Germany's chancellor, is joining him in pressing for new sanctions, probably at EU level.
The US is tightening its economic squeeze on Iran and last month unilaterally imposed a new round of sanctions. It regularly complains in private to the British and other European governments that American efforts are being undermined by European companies continuing to do business with Tehran. If economic sanctions fail to have an impact by next year, pressure will mount from Mr Cheney to launch air strikes against Iran.
Other news
:
North Korea expressed rare gratitude Thursday for U.S. help
North Korea expressed rare gratitude Thursday for U.S. help in ending a high-seas standoff with Somali pirates, a sign of warming ties between the longtime foes fostered by progress on Pyongyang's nuclear disarmament.
The U.S. Navy's aid to North Korean sailors last week was unprecedented in the half century of hostility between the Cold War enemies, according to the Naval Historical Center in Washington.
The North's Korean Central News Agency hailed the maritime collaboration as a "symbol of cooperation" between the two countries "in the struggle against terrorism."
"The pirates' recent armed attack on our trading ship was a grave terrorist act perpetrated against a peaceful ship," KCNA said. "We feel grateful to the United States for its assistance given to our crewmen."
The last notable maritime encounter between the two countries was in 1968, when the North seized the USS Pueblo while it was on an intelligence-gathering mission off the North Korean coast and held 82 Americans as prisoners of war for 11 months.
In a dramatic turnabout nearly four decades later, the U.S. Navy came to the aid of the North Korean cargo ship Dai Hong Dan, whose crew overpowered Somali pirates in a bloody battle.
After the crew regained control of the ship, Navy personnel boarded it at the North Koreans' invitation to treat wounded sailors and hijackers.
"This is a very interesting new direction between U.S. and North Korea," said Maochun Yu, a professor of history at the U.S. Naval academy. "It adds a little bit of complexity between the U.S. and North Korea. This one adds a human face, shows humanitarian aid is part of the U.S. mission."
In an unusually detailed report, the KCNA news agency said the USS James E. Williams and a helicopter rushed to the scene and "helped the (North Korean) sailors in fighting, threatening the pirates" via radio.
Not Nam: This Time, Vets Return To Warm Welcomes
In the eyes of many critics, the war in Iraq has become a "quagmire" – reminiscent of Vietnam.
But as the nation prepares to mark the fifth Veterans Day since the US-led invasion, the two lengthy and controversial conflicts are very different in one crucial way. This time, combat vets are being welcomed back by Americans of all political persuasions.
Around the country, community groups, local businesses, service organizations, clubs, and faith groups are helping build homes with special features or providing vehicles to accommodate wounded GIs. They're donating to educational scholarships and providing airline tickets so soldiers on leave from the war zone can get all the way home. And veterans themselves – some of them old-timers, some recently returned from war themselves – have organized to provide a comradely ear as difficult experiences are related.
In this post-9/11 era, the changed attitude toward men and women in uniform, symbolized by individual and collective acts of kindness, appears widespread.
Even though 63 percent of Americans say the war in Iraq was not worth fighting (ABC News poll this week),
77 percent have a favorable view of the military and 72 percent say the government doesn't give enough support to soldiers who have served in Iraq and Afghanistan
(Pew Research survey in March).