Good Lord, Dior has lost
it
. I can't say anything good about the two bags below, and I can't imagine anyone pouring oodles of money into such unwise investments. I mean, the bags look crazy.
"Crazy"
can be appealing to those who admire fashion extremes, but you've got to draw the line somewhere! The Dior Gaucho bag actually looks okay if you stare at it long enough and convince yourself that there are uglier things out there, such as Christina Aguilera without fifteen layers of MAC make-up on, but I believe it'd look better without the little pocket under Dior's trademark saddle-shaped flap. I'm not too sure about the croc-stamped patent leather as well- it just doesn't work for this bag, but it sure as hell works for
Yves Saint Laurent's Crocodile Uptown Bag!
Now as for the purple woven bag, it's just messy and hopeless.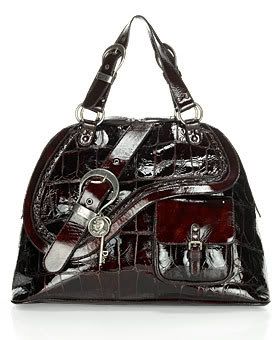 If you like chic and simple bags, check-out
the Nancy Bag collection
. You don't need eye-catching colors or revolutionary designs to make a statement!