I love hearing positive news about Iraq... 'cause Bush liberated 'em and I'm a proud Bushie! :P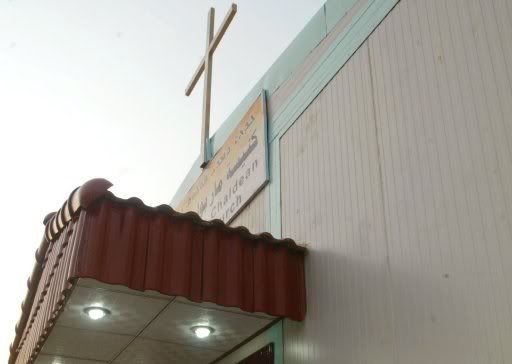 Iraq's first new church since the 2003 US-led invasion opened in a poor Christian neighbourhood of the northern city of Kirkuk, the region's Chaldean archbishop told AFP on Friday.

The inauguration of Mar Bulos (Saint Paul's) church in the multi-ethnic and multi-religious city comes despite the sharp fall in the number of Christians in Iraq because of attacks and threats by Al-Qaeda.

The new Kirkuk church serves a housing community of about 200 Christian families who fled to Kirkuk and nearby regions from other parts of the country, Sako said.

The church and complex were built on land donated by the Iraqi government and with donations, including $10,000 by President Jalal Talabani.

He said it was a secure location with fewer instances of violence and was better protected because of its location near the facilities and housing complexes of the state-run North Oil Company.

In a symbolic gesture of solidarity with the Christian community, Sheikh Ahmed Muhammad Ameen, the Muslim Imam of Kirkuk, recited a prayer before the congregation, asking God for peace and security for the people of Kirkuk and the rest of Iraq.

The ceremony was also attended by several Arab and Kurdish officials.

Hassan Toran, the chief of Kirkuk's provincial council, said that the local government "will support the Christians, financially and morally."
I think it's sweet that some of the Muslim sheiks decided to attend the ceremony, and that it was the Iraqi government who donated the land. They need to do more of this. I don't know what will happen to Iraq in the coming years, but I hope they achieve some sort of peace. So many have sacrificed so much to bring democracy to that country, it'll be heartbreaking if Iraq collapses.
OTHER LINKS ABOUT IRAQ
:
Mass grave containing 900 bodies from Saddam-era unearthed in Iraq
;
US Consulate in Basra reopens after 44 years
... and some good news:
Iraq plans first bond sale in 6 years as its economy strengthens
:
Iraq, recovering from decades of war and sanctions, may sell its first bonds since 2006 next year as rising oil revenue and increased stability help push borrowing costs lower.

"Iraqi bonds have been performing well, so the central bank may issue new ones early next year," Waleed Eedi, a director general at the Central Bank of Iraq, said in a telephone interview from Baghdad on July 4.

"The performance of the bonds has improved because Iraq's economy is getting stronger."

Eight years after a U.S.-led invasion toppled Saddam Hussein, Iraq's economy is poised to grow 9.6 percent this year, second only to Qatar in the Middle East and North Africa, according to International Monetary Fund forecasts.