'Fox News Sunday' prods Obama on no-show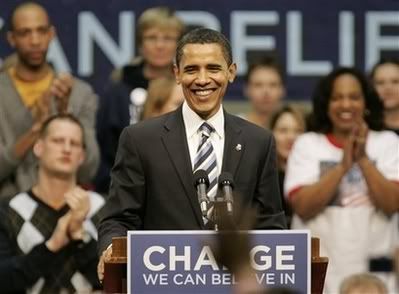 Hussein too scared of Fox?

WASHINGTON - Hoping to prod Barack Obama into appearing on its show, "Fox News Sunday" launched the "Obama Watch," a weekly update on the number of days the Democratic presidential candidate has failed to appear on the program.

Host Chris Wallace said Sunday that Obama promised him in March 2006 that he would come on the show, but the Illinois senator has since demurred.

Since then, New York Sen. Hillary Rodham Clinton, Obama's rival for the Democratic presidential nomination, has been a guest twice and Sen. John McCain, R-Ariz., the likely Republican nominee for president, has shown up a half dozen times.

"Many of you have sent us e-mails asking why the senator won't come on 'Fox News Sunday' and face tough questioning," Wallace said toward the end of the hourlong broadcast. "It has now been 730 days, 13 hours, 53 minutes and nine — no, 10 seconds and counting since Obama agreed to be a guest on 'Fox News Sunday.'"

"Tune in next week for the latest," he said.

Obama campaign spokesman Tommy Vietor declined to comment on a possible appearance by Obama on "Fox News Sunday," but noted that the senator did an interview with Fox News Channel as recently as last Friday.

other news ON DEADLINE: Obama walks arrogance line
He's bordering on arrogance.

The dictionary defines the word as an "offensive display of superiority or self-importance; overbearing pride." Obama may not be offensive or overbearing, but he can be a bit too cocky for his own good.

The freshman senator told reporters in July that

he would overcome Hillary Rodham Clinton's lead in the polls because "to know me is to love me."



A few months later, he said, "Every place is Barack Obama country once Barack Obama's been there."

True, there's a certain amount of tongue-in-cheekiness to such remarks — almost as if Obama doesn't want to take his adoring crowds and political ascent too seriously. He was surely kidding when

he told supporters in January that by the time he was done speaking "a light will shine down from somewhere."





"It will light upon you," he continued. "You will experience an epiphany. And you will say to yourself, I have to vote for Barack. I have to do it."



But both Obama and his wife, Michelle, ooze a sense of entitlement...