Prince Harry in Afghanistan

Boy soldier ... Harry, 8, in 1993
PRINCE Harry received a heart-wrenching letter in the front line from brother William telling him: "You're making mum proud."
It was among a treasure chest of personal messages sent to the Royal as he took on the Taliban in Afghanistan.
Fellow Blues and Royals officer William reminded his younger brother of Princess Diana to provide a vital boost, after hearing from other soldiers in the regiment how tough life was in Helmand Province.
Harry said: "Hopefully, she would be proud. She would be looking down having a giggle about the stupid things that I've been doing, like going left when I should have gone right, finding myself in an awkward position earlier today.
"William sent me a letter saying how proud he reckons that she would be."
It was during a visit with Princess Diana to the Light Dragoons Bergen-Hohne barracks in Germany in 1993, that a now-famous photograph was taken of an eight-year-old Harry peering from the turret of a tank.
Years later when he joined the Army, he chose the Household Cavalry as his regiment — and trained as a Scimitar armoured vehicle troop leader.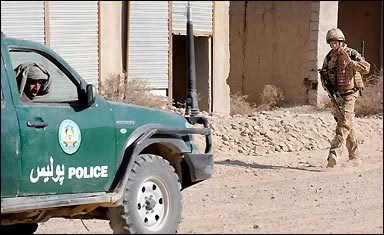 On patrol ... passing police unrecognised in Garmsir
He was 12 when she died in Paris in 1997. Last night a senior Royal source told The Sun: "William just wanted to let Harry know how much he admired his brother.
"He knows that his status as a future king means William will never see action in this way. But William is well aware that their mother would have been watching over Harry as he served his country."
But Harry admitted: "I suppose it's just the way it is — there are other people out here who've lost one of their parents, I'm sure it's the same for them."
Harry joked that William — now learning how to fly with the RAF — was jealous of his Afghan posting.
He said: "Well, he does know where I am. He's jealous anyway because I've got one of the best jobs in the Army. I think there's a lot of people who disagree with that but there's a lot of people who'd agree."
Harry said he was exhilarated by service in Afghanistan — and proud of his Gurkha comrades. He doesn't attract a second glance from locals or even Afghan police as he patrols the bombed-out streets of Garmsir.
He also manned a .50 calibre Heavy Machine Gun from a fortified observation point on high ground just outside of Garmsir.
Harry said: "Delhi (his base) is fantastic. I'd asked the commanding officer if I could spend Christmas with the Gurkhas there because I had spent some time with them in England on exercise on Salisbury.
"Everyone is really well looked after here by the Gurkhas. The food is fantastic, goat curries, chicken curries — yeah, it's really good fun and, yeah, we're really well looked after. It was just something I wanted to do, just to be with them.
"They don't celebrate Christmas much but we had some fantastic games which we played in the yard there. Christmas is over-rated anyway. And you know, when you're with the Gurkhas there's no safer place to be really.
"But what's hard for anyone to understand, especially if you've been out here for three months already, is the fact that, yes, you can be up at (base) Dwyer safe and sound but it just drags on when nothing is going on and it's so boring.
"So it's nice to get down here and be part of it and actually help. As a soldier, this is what it's all about, being here with the guys rather than in a room with officers."
Home now is a bunker — a million miles from the palaces and stately homes he is used to. His bed has been knocked up from a stretcher and a tent, with a mosquito net wrapped around the supports, wedged against a dusty brick wall.
Instead of a mattress, he has lightweight green sleeping bag and a pillow. Basic toiletries of toothpaste, razors, shaving foam and aftershave hang in webbing from the stone wall. There is no basin or bathroom.
Military equipment is strewn around the room. On the floor is a locally-bought rug, but Harry — pictured holding a bottled fruit drink — has some comforts such as an MP3 player.
Harry said: "We've got light, we've got food, we've got drink. No, I don't miss booze. It's nice just to be here with the guys and mucking in as one of the lads."
Harry admitted his comrades aren't the least bit fazed by having a Royal in the ranks.
He said: "I've been mocked. We have a good laugh every day and Mark (Major Milford) blows smoke up my ass by saying that the Gurkhas love the fact I'm down here, especially with this company because my father is the Colonel-in-Chief. I hope I've got that right.
"They think it's fantastic and I love them because they just make me laugh so much and we've been having a really good time. I don't think there's any words to describe exactly how it is. It's just really nice to be out here."