From AmericanThinker.Com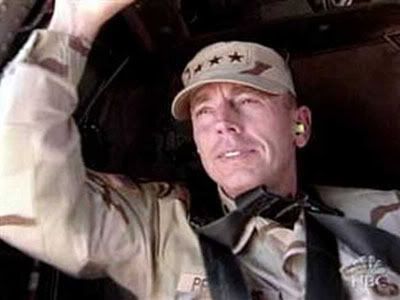 All politics are local. But sometimes, local politics are a national bellwether.
Much has been said about the mendacious, full-page advertisement MoveOn.org ran in the New York Times this week referring to Gen. David Petraeus as "General Betray Us." Democrats in Congress orchestrated the piece, and most have refused to condemn this baseless attack on a man who has devoted more than three decades to defending the people of the United States.
Incredibly, even Petraeus' own Congressman refused to defend him. Let's be clear: General Petraeus was born and raised in Cornwall, New York and he is a graduate of the U.S. Military Academy at West Point. Both Petraeus' hometown and alma mater fall within New York's 19th Congressional District in the Hudson River Valley. The district is represented by Rep. John Hall, an anti-war Democrat who has been in office for nine months.
One might wonder what kind of Congressman could sit back and watch in silence as his own District's favorite son is slandered by the cretins at MoveOn. But let's not be surprised by John Hall anymore.
Some background: Before eking out a victory in the historically conservative 19th District in 2006, John Hall was a singer with the 1970's band Orleans. By the early 1980's, he was establishing himself as a reliable leftwing shill, making an anti-Nuke propaganda film with a repugnant gaggle of leftists and celebrities, including Jane Fonda herself. In 1991, he was a county legislator and voted to defeat a resolution declaring support for our troops during Operation Desert Storm. But Hall didn't stop there. By the late 1990's, he'd sailed his yacht to Cuba (an act that contravenes U.S. law, which Hall still hasn't explained). He enjoyed his trip to the dictatorship so much he wrote a song about it .
After years of leftist antics, Hall must have been proud when the New York Times patted him on the back in 2006, calling him a "veteran liberal activist."
The beat goes on. As a candidate in 2006, Hall was endorsed by Dennis Kucinich's mouthpiece, the Progressive Democrats of America as well as people like Tim Robbins and dozens of other leftist celebrities, all of whom funded Hall's campaign in New York's 19th .
In fact, Hall has a video endorsement from the communist folk singer Pete Seeger proudly displayed on his campaign website. Still, Hall needed MoveOn.org to put him over the top because Republicans outnumber Dems in the district. So Hall's donors funneled money through MoveOn.org to Hall's campaign .
And MoveOn.org, whose support of Hall speaks volumes about him, mobilized an army of tie-dyed liberals from outside the district to support Hall. Cynical as it was, though, Hall's plan worked, and he defeated the Republican incumbent Sue Kelly.
With MoveOn's support, Hall was swept into office by a perfect storm of anti-Republican sentiment, a weak incumbent and a neglectful media that failed to report on his radical ideals. But he needed a different plan to defend the seat, so despite his anti-military resume, he's pinned his re-election hopes on winning support from military veterans - because he knows we make up nearly one-fifth of the district's electorate. The DNC has played along, and Democrats put Hall on the House Veterans Committee; Nancy Pelosi even got him on to the Board of Visitors of West Point.
Today, Hall's public persona is a carefully crafted masquerade -- at every opportunity, Hall sings the "supporting veterans" song, yet he's done nothing useful for us. He saw national attention after promising to withhold the bonuses of the Veterans Administration brass until the backlog of veteran's claims was reduced. But after the spotlight waned, so did Hall's interest in helping vets, and he quickly broke this promise.
The real John Hall has devoted his term to a U.S. defeat in Iraq. The real John Hall chose not to defend General Petraeus for the simple reason that he feared retribution from MoveOn.org and the far left, which he knew are the lifeblood of his re-election campaign.
In 2008 Hall needs the votes of veterans, money and volunteers from MoveOn and the media to look the other way so the people in the district don't find out about the whole charade.
The local press has responded to Hall's bold hypocrisy with, as one might predict, virtual silence. For this reason, people in the 19th C.D. never learned of Hall's vote against funding to build and ship mine-resistant humvees to the war front (despite the fact that 70% of U.S. casualties come from roadside attacks on American vehicles).
Of the free pass the press has given Hall on his anti-military votes, one local editor remarked to me that "We don't run a story every time a local Congressman hiccups." (Hall's Hiccups don't get coverage but his leisurely stroll to work does. Early this month the New York Journal News ran a front page above the fold piece in the Sunday edition praising Hall as a pillar of environmental virtue for walking from his apartment in DC to work "most Tuesdays through Fridays." The exact story was run eight days earlier on the cover of another daily in the district the Poughkeepsie Journal.)
With the media in their corner, Hall and his ilk are busily feigning support for the military and for veterans while at the same time carrying out the left's marching orders in Washington with one destructive anti-military vote after another. John Hall's disingenuousness reveals quite a bit about the DNC's plan to retain their majority in Congress in November 2008. If Hall allows a genuinely great military man with four stars from his own district to be viciously disparaged by his allies, those of us who were privates, sergeants and lieutenants don't stand a chance once he and MoveOn's other minions are fully entrenched in Washington.