Let's just hope they won't have a crappy "terrorist buster" logo.
The Prince Group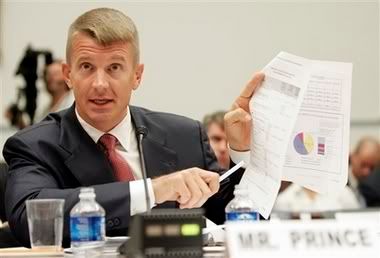 Security analysts say the U.S. company that owns Blackwater is one of a growing number of firms offering spy services to the government.
The Prince Group, owned by Erik Prince, who formed Blackwater Worldwide, now is building Total Intelligence Solution, The Washington Post reported Saturday.
Total Intel, as the firm is known, has assembled former high-ranking spies from the CIA to muster intelligence about foreign regulations and global political developments, the Post reported.
"They have the skills and background to do anything anyone wants," said R.J. Hillhouse, author of a security blog called The Spy Who Billed Me. "There's no oversight. They are an independent company offering free-lance espionage services. They are rent-a-spies."
Total Intel's chairman is Cofer Black, the former head of counter-terrorism at the CIA, and its chief executive is Robert Richer, a former CIA associate deputy director of operations.
"Cofer can open doors," said Richer. "I can open doors. We can generally get in to see who we need to see."
Other Blackwater news
:
Blackwater builds camp for California fire victims

Blackwater has been quietly helping victims of the wildfires in southern California by providing food, water and shelter for those left homeless.