Just a few books I plan to read; Descriptions are taken from Amazon.com: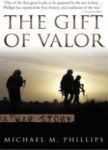 The Gift of Valor: A War Story. This expanded retelling of a front-page story that originally appeared in the Wall Street Journal serves as a memorable narrative tribute to the life and death of U.S. Marine Corporal Jason Dunham. At age 22, serving in Iraq near the Syrian border with the Third Battalion, Seventh Marine Regiment, Dunham suffered a grievous head injury when he clamped his bullet-resistant Kevlar helmet over a live grenade thrust at him by an insurgent during hand-to-hand combat, in an apparent effort to contain the blast and protect his squadmates. Phillips, an embedded journalist with the Marines, subsequently interviewed the corporal's parents, his childhood friends in Scio, NY, members of his infantry unit, and medical personnel who tended him both in Iraq and during the medevac flights to Germany and Bethesda Naval Hospital. These interviews reconstruct the emotional, significant ways in which the young man's life and plight affected relatives, neighbors, and comrades in arms. The context of his upbringing serves as a backdrop to his developing military leadership style, and the scant number of years that separate his teenage experiences from grimly serious battlefield conditions will undoubtedly catch the attention of readers. He has been nominated for the Congressional Medal of Honor. This realistic, gritty portrayal of loss and its aftermath personalizes events behind daily headlines, but remains descriptive rather than political in its point of view.–Lynn Nutwell, Fairfax City RegionalLibrary, VA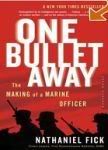 One Bullet Away: The Making of a Marine Officer. The global war on terrorism has spawned some excellent combat narratives—mostly by journalists. Warriors, like Marine Corps officer Fick, bring a different and essential perspective to the story. A classics major at Dartmouth, Fick joined the Marines in 1998 because he "wanted to go on a great adventure... to do something so hard that no one could ever talk shit to me." Thus begins his odyssey through the grueling regimen of Marine training and wartime deployments—an odyssey that he recounts in vivid detail in this candid and fast-paced memoir. Fick was first deployed to Afghanistan, where he saw little combat, but his Operation [Iraqi] Freedom unit, the elite 1st Reconnaissance Battalion, helped spearhead the invasion of Iraq and "battled through every town on Highway 7" from Nasiriyah to al Kut. (Rolling Stone writer Evan Wright's provocative Generation Kill is based on his travels with Fick's unit.) Like the best combat memoirs, Fick's focuses on the men doing the fighting and avoids hyperbole and sensationalism. He does not shrink from the truth—however personal or unpleasant. "I was aware enough," he admits after a firefight, "to be concerned that I was starting to enjoy it."


Skinny Bitch. Not your typical boring diet book, this is a tart-tongued, no-holds-barred wakeup call to all women who want to be thin. With such blunt advice as, "Soda is liquid Satan" and "You are a total moron if you think the Atkins Diet will make you thin," it's a rallying cry for all savvy women to start eating healthy and looking radiant. Unlike standard diet books, it actually makes the reader laugh out loud with its truthful, smart-mouthed revelations. Behind all the attitude, however, there's solid guidance. Skinny Bitch espouses a healthful lifestyle that promotes whole grains, fruits, and vegetables, and encourages women to get excited about feeling "clean and pure and energized."
Metro
"Don't hate them--be them. The authors of 'Skinny Bitch' offer women a no-holds-barred approach to being thin and fabulous."




Essential Fashion Illustration. This book's aim is to submerge the reader in the world of illustration. The first section ranges from how to start to draw a human figure to the techniques to stylize and synthesize it. This section provides a large amount of figures in different poses, as well as hands and feet-often the most difficult parts - in diverse postures and angles. However, in the field of fashion it is also essential to know how to draw fabric, and even more important to know how to draw the folds of clothing. The items of clothing are presented as much in technical drawing as in figures in movement, and forming light and shadow is also explained, as this gives quality to the illustration.

The second part of the book revolves around color and the different techniques with which one can work: watercolor, wax, pastel, and so on. All the drawings that appear constitute a brief exhibition of the changes that the fashion world has experienced and with this in mind a path has been laid which starts in 1900, illustrated in watercolors, and finishes in 2000, illustrated in pencil. The goal of this volume is to uncover the reader's desire to paint and to provide him with some of the secrets that will encourage him to do so. After all, experience is the most effective way to learn, whatever the subject. [Good God, I really need this! I suck!]


No True Glory: A Frontline Account of the Battle for Fallujah. The most hard-fought campaign since the invasion of Iraq by coalition forces in April 2003, the battle for Fallujah seems here to embody most every facet of the American military experience in that country--inordinate courage by the fighting men and their immediate superiors, indecision and contradiction by U.S. leaders from the top down, a disconnect between military will to succeed in Iraq and a lack of dollars and troops to support it, and a treacherous relationship between Fallujans and those Americans who would do everything to "help" them. West, who coauthored The March Up: Taking Baghdad with the United States Marines (2003), does touch on the larger policy decisions made by U.S. leaders concerning Iraq but really only as they affect the soldiers trying to execute those decisions in Fallujah. Instead, West's focus is on the "frontline," putting the reader at the negotiating table with U.S. military commanders and Fallujan sheiks, imams, and rebel leaders; in the barracks; and on the street, fighting hand to hand, house to house, in some of the fiercest battles of the Fallujah campaign and the Iraq war. Appearing neither pro- nor antiwar, West simply delivers a remarkably detailed, vivid firsthand account of the American military experience, 2004-05, in a highly combustible part of Iraq. Alan Moores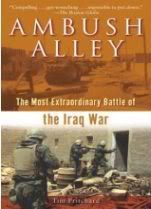 Ambush Alley: The Most Extraordinary Battle of the Iraq War. March 23, 2003: U.S. Marines from the Task Force Tarawa are caught up in one of the most unexpected battles of the Iraq War. What started off as a routine maneuver to secure two key bridges in the town of Nasiriyah in southern Iraq degenerated into a nightmarish twenty-four-hour urban clash in which eighteen young Marines lost their lives and more than thirty-five others were wounded. It was the single heaviest loss suffered by the U.S. military during the initial combat phase of the war.
On that fateful day, Marines came across the burned-out remains of a U.S. Army convoy that had been ambushed by Saddam Hussein's forces outside Nasiriyah. In an attempt to rescue the missing soldiers and seize the bridges before the Iraqis could destroy them, the Marines decided to advance their attack on the city by twenty-four hours. What happened next is a gripping and gruesome tale of military blunders, tragedy, and heroism.
Huge M1 tanks leading the attack were rendered ineffective when they became mired in an open sewer. Then a company of Marines took a wrong turn and ended up on a deadly stretch of road where their armored personal carriers were hit by devastating rocket-propelled grenade fire. USAF planes called in for fire support play their own part in the unfolding cataclysm when they accidentally strafed the vehicles. The attempt to rescue the dead and dying stranded in "ambush alley" only drew more Marines into the slaughter.

This was not a battle of modern technology, but a brutal close-quarter urban knife fight that tested the Marines' resolve and training to the limit. At the heart of the drama were the fifty or so young Marines, most of whom had never been to war, who were embroiled in a battle of epic proportions from which neither their commanders nor the technological might of the U.S. military could save them.
With a novelist's gift for pace and tension, Tim Pritchard brilliantly captures the chaos, panic, and courage of the fight for Nasiriyah, bringing back in full force the day that a perfunctory task turned into a battle for survival.
"Ambush Alley" is a gut-wrenching account of unadulterated terror that's hard to read yet impossible to put down. London-based journalist and filmmaker Tim Pritchard, who was embedded with US troops during the initial stages of the American-led invasion of Iraq, paints a compelling picture of one of the costliest battles of the Iraq war that will at turns anger, horrify, and sadden, regardless of one's political views."
--The Boston Globe


Lone Survivor: The Eyewitness Account of Operation Redwing and the Lost Heroes of SEAL Team 10. On a clear night in late June 2005, four U.S. Navy SEALs left their base in northern Afghanistan for the mountainous Pakistani border. Their mission was to capture or kill a notorious al Qaeda leader known to be ensconced in a Taliban stronghold surrounded by a small but heavily armed force. Less then twenty-four hours later, only one of those Navy SEALs remained alive.
This is the story of fire team leader Marcus Luttrell, the sole survivor of Operation Redwing, and the desperate battle in the mountains that led, ultimately, to the largest loss of life in Navy SEAL history. But it is also, more than anything, the story of his teammates, who fought ferociously beside him until he was the last one left-blasted unconscious by a rocket grenade, blown over a cliff, but still armed and still breathing. Over the next four days, badly injured and presumed dead, Luttrell fought off six al Qaeda assassins who were sent to finish him, then crawled for seven miles through the mountains before he was taken in by a Pashtun tribe, who risked everything to protect him from the encircling Taliban killers.
A six-foot-five-inch Texan, Leading Petty Officer Luttrell takes us, blow-by-blow, through the brutal training of America's warrior elite and the relentless rites of passage required by the Navy SEALs. He transports us to a monstrous battle fought in the desolate peaks of Afghanistan, where the beleaguered American team plummeted headlong a thousand feet down a mountain as they fought back through flying shale and rocks. In this rich , moving chronicle of courage, honor, and patriotism, Marcus Luttrell delivers one of the most powerful narratives ever written about modern warfare-and a tribute to his teammates, who made the ultimate sacrifice for their country.

Books I'm currently reading: