Update: Confusion over fate of Taliban hostages.

A purported Taliban spokesman said Saturday that the Islamic militia had killed two German hostages, a claim disputed by both Afghanistan and Germany. He also offered to trade 23 captive South Koreans for imprisoned Taliban fighters. The militant spokesman offered no proof of his claim on the kidnapped Germans. Afghan officials said one of the

Germans appeared to have died from a heart attack, while the other was still alive.

Despite the competing claims, the separate seizures of the foreigners in southern provinces were vivid illustrations of the lack of government control over the region.

Kidnapped Italian priest has been freed by Abu Sayyaf, an al-Qaeda linked group operating in the southern Philippines.

In the search for Bossi earlier this month,

the military lost 14 Marines, including 10 who were beheaded

, threatening a peace process in the south.
"I feel like I am responsible for their death because they were there looking for me. Instead they were ambushed," said a teary-eyed Bossi during a news conference.

"Iraq Explodes In Celebration of Its Soccer Team".

Few spectators missed the irony of Iraq defeating Vietnam , a nation with its own experience with a bloody, ill-fated U.S. war. One Iraqi sports commentator dubbed the match "the wounded vs. the healed."

President Bush sings "Bloody Sunday":



I think President Bush rocks. He liberated Afghanistan and Iraq from very oppressive governments, planted the seeds of democracy and freedom in their countries, and gave them

the chance

to become citizens of the world. However, they must prove themselves worthy of liberty and should thus cooperate with U.S. and NATO forces in rebuilding their countries. It's for their children and future, after all. (Now before you rip me apart, may I just remind you that

freedom is not free

! It is not handed to you on a silver platter- you must work hard for it. You must ache, bleed and die for it.

You must keep fighting for it.

If you no longer believe that freedom is worth fighting and dying for, then by all means, welcome the Taliban and al-Qaeda back into your arms. Just don't bitch about it when they begin executing women and children again.)
Anyway, check out the awesome dresses from Mango. So stylish. I've always loved their pieces and prefer them over Topshop's (I still love Topshop, though- but not the

Kate Moss

line!)

Also, check out this Betsey Johnson mini-dress:





Loves it! I know the print is loud and crazy, but I love loud and crazy! Also check out this sailor dress Screw that, I hate it now. Check out this slip dress from Betsey Johnson:







Other funky styles: Evening Polka Dot Sateen Dress, Silk Print Maxi Dress....

Kimora Lee Simmons: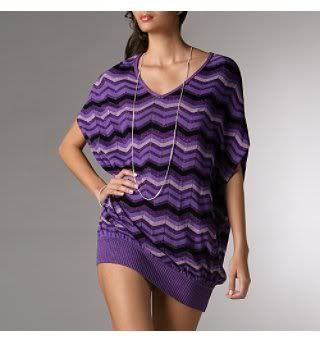 Blousant tunic/dress. Gotta love Babyphat and Kimora Lee! More: FUNKY Scoop Neck Tee!!!, Babyphat Cheetah Dress...

And last, but not the least: KICKASS TUNIC!!!